Chiltern Tutorial School

Otterbourne New Hall
Cranbourne Drive
Otterbourne
Hampshire
SO21 2ET
01962 717696

By the Numbers

Mission / Vision - In Their Words 
Chiltern Tutorial School

Mission: The Vision and Values section of their website states:


"It is hoped that a child leaving our school will be:

• Well educated with a love of learning, ready to engage with a wider world;
• Happy, friendly and self-confident with a good sense of humour;
• Generous in spirit, proud of their talents and can celebrate the talents of others;
• Wanting to take their place in society, having a desire to contribute to the common good.

The aim of the school is to provide a happy, supportive and caring environment in which children who are not reaching their potential will be motivated to learn. Children are provided with strategies to build up their self -esteem and to acquire essential skills in order to make a successful return to mainstream education."
How They Accommodate Dyslexia - What We Found

Target Students: Chiltern serves children with dyslexia, dyscalculia and dyspraxia.  Students typically attend the school for 2 to 3 years until they have reached age appropriate literacy skills at which point they are able to return to mainstream schooling. Their website states that "Chiltern School is a small school registered for thirty children, which was established in September 1995, for children with specific learning difficulties (dyslexia.)"
Dyslexia Accommodation:  The school uses a "flexible, multi-sensory approach," in teaching dyslexic students. The website also includes an extensive section on "The dyslexia friendly classroom. It is not clear if of all the tips in this section are part of the schools teaching approach, but most appear to be.

The reading program used in the school is the 'Phono-Graphix' system of teaching reading and spelling. No detail about this approach is offered. 

Teacher Training: According to the 2012 Ofsted report (link abov), the quality of teaching and assessment is good but not outstanding. But the only critique offered was that student results were not outstanding, rather than any issue with teaching methods.

Teachers reportedly, have specialist knowledge of approaches to help pupils who have dyslexia and associated difficulties, though what this knowledge is or the approaches used is not elaborated on. A wide variety of activities which help to capture pupils' interest are used, which is consistent with the multi-sensory approach. Some of the activities involve students working together and discussing their ideas to further develop pupils' social and team working skills.

Student Teacher Ratio: NA
Assistive Technology: Students have access to an unspecified "variety of computers which have full-multi-media facilities." The computers are located in a room separate from the main classrooms.  There were no details on specific applications available to the students beyond the specified spell checkers, thesaurus and dictaphones.
Financial Aid: NA
Chiltern Tutorial
  DRW Scorecard
2013-2014
Target Students / Mission: 2/4

Dyslexia Accommodation: 3/4

Teacher Training: 3/4

Student Teacher Ratio: TBD

Assistive Technology: 2/4

Financial Support: TBD


DRW Scorecard

Based on information available to us, we have scored the school in six areas of importance to prospective parents and students.

Important Notes

1) Given the limitations of information available to us, the scores may not accurately represent the school. School administrators  or informed parents and students are welcome to contact us with additional information and we will update the scorecard accordingly.

2) Scoring is based on specific dyslexic student needs, not on an absolute scale of school quality.
Final Thoughts
The school's website has recently been updated and includes several student and parent testimonials expressing how well students progress and enjoy their time at school. The website provides few details on the Phono Graphix reading program in use. but does emphasize the use of multi-sensory methods in general.
The school was rated as good overall in the latest Ofsted report (published September 2012).  Though in our opinion the report was not very rigorous.

DRW Scoring Grid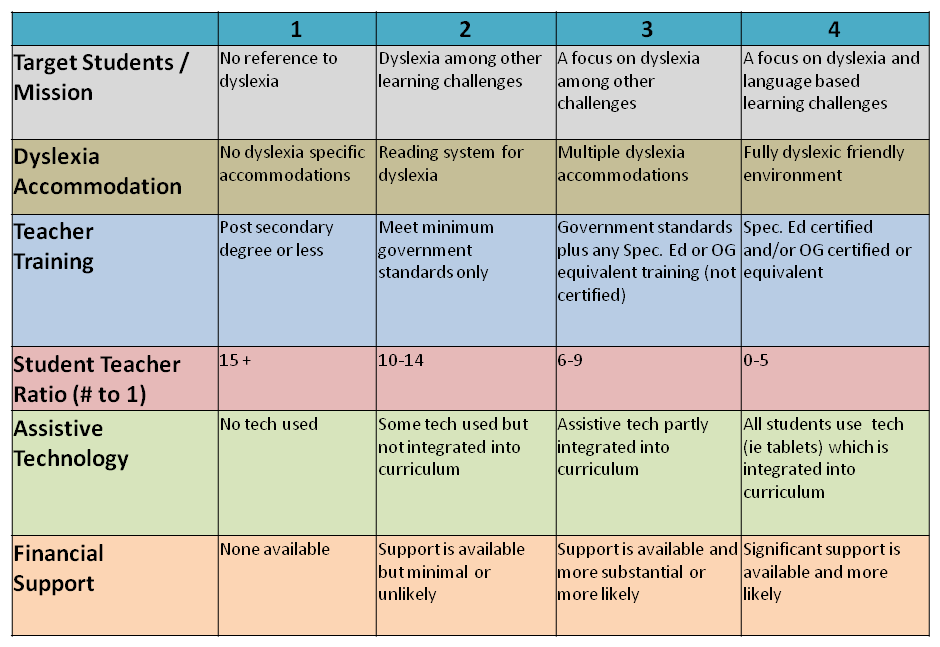 ---
---
Return to the Top of Chiltern Tutorial School

Home
>
Dyslexia Schools
>
Dyslexia Schools US
> Chiltern Tutorial School
---
Stay up to date, subscribe to our newsletter: The Oasis