U.S. Parent Guide to Dyslexia 2014-15

***Currently being updated. Watch for a 2018 version soon. 
The first edition of our Dyslexia Reading Well U.S. Parent Guide is packed with everything a parent with a struggling reader must know:
Dyslexia basics including symptoms, causes, methods of assessment and testing.

The most comprehensive tables of state-by-state resources you will find anywhere: schools, tutoring centers (180 that are free!), community organizations and more.
A parent primer on IT including recommended software applications and helpful hardware.
A state-by-state list of dyslexia-related laws and what they mean for you as a parent.
Designed with the dyslexic reader in mind: friendly fonts, colors, spacing and loaded with images, tables and charts—because parents of dyslexics are often dyslexic, something we haven't forgotten!
Sells for just $11.99 (U.S.) which is about the same cost as 15 minutes of tutoring.
Funds raised help make this website possible. 

Our U.S. Parent Guide is now available
---
Quick Links

---
Guide Features

If you are the parent of a child struggling to read, this guide is packed with the critical information needed to get your child on the right track for successful learning and confidence building. The guide contains all the information I wish I had when we first discovered that my stepson was struggling to read. 

Carefully selected and re-crafted essential information from the website is blended with new material, tables, and graphics beyond what is currently found at our site. The guide is conveniently formatted into a PDF e-book you can take anywhere on your tablet, laptop or even smartphone.  

Note that the guide is an e-download only. You are sent a link for immediate download.  You will NOT be mailed a hard copy edition.


  


About The Author


Michael Bates has a Bachelor of Education in social studies and a Master of Arts degree in political science from the University of Calgary. Over the past twenty years, he has taught elementary, junior high, high school, university and adult continuing education students.

Most recently he served as senior policy analyst with the Government of Canada. After discovering that his stepson had dyslexia in 2011, and realizing that most local teachers and school professionals lacked basic knowledge about reading disabilities, he changed careers to develop this website, social media and educational materials to help parents, educators and other professionals better understand dyslexia.

He currently lives with his spouse and stepson in Ottawa, Canada. Learn more here.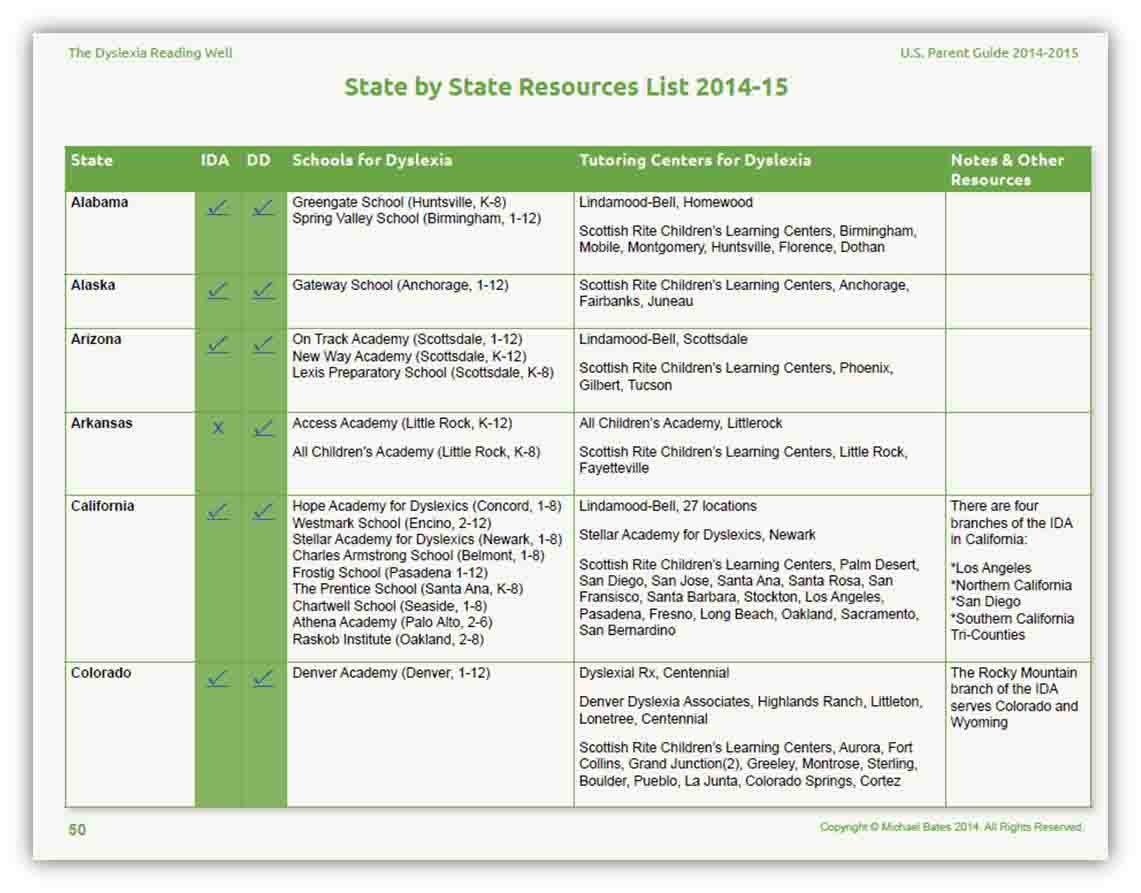 State-by-State Resource Lists
| | |
| --- | --- |
| The Latest Science-Based Information and Facts | Colorful Tables and Charts for Easy Reading |
Contents Include

Symptoms
Causes
Assessment
Testing


Assistive Technology
Apps and Hardware
Reading Programs


Schools
Tutoring Centers
Homework Tips


Federal Legislation
State Laws
And Much More!


The Guide I Needed

This guide is all the information I wish I had when we first discovered that my stepson was struggling to read.

We could have started on the right path five years earlier and saved thousands of dollars spent on ineffective programs had we simply known about dyslexia and interventions that actually work.

-Michael
Testimonials
"There are many resources for parents on the Web, but I haven't seen any as good as this guide for bringing together concepts, approaches and resources in a way that can be understood and applied."
-Dr. Lawrence Marks, parent, professional translator and linguist


"This guide provides exactly what parents of struggling readers need to know—in a style that works for dyslexics and non dyslexics alike."
-Derek Rhodenizer, Vice Principal and special education professional


"Great resource for understanding dyslexia."
-Teachers Pay Teachers Review

"The Dyslexia Reading Well U.S. Parent Guide is an outstanding, comprehensive publication that is packed with valuable advice, tools and resources! 

In a clear and concise manor, Michael Bates walks parents through the process of understanding dyslexia, finding the right academic support and remediation, and locating the best resources in ones community.  He makes the confusing and often intimidating process manageable and his easy to read text, images and colorful tables will help empower you as a parent. I'm a learning specialist myself and will be referring my parents to this guide."
- Dr. Erica Warren, educational psychologist, teacher, tutor, author of over 80 dyslexia related teaching tools and founder of LearningtoLearn.biz
Price
The guide has a regular price of $11.99. There are no shipping fees since the guide is only available as an e-book.
If the guide helps you make one informed decision regarding assessment, an individual education plan, tutoring, software or a school, it will easily pay for itself many times over. For the price of about 15 minutes of tutoring we hope to help you avoid many of the expensive pitfalls we experienced. 
Funds raised make this website possible. Thank you for your support.

Our Guarantee

Your purchase is risk-free. If you're not satisfied with the Guide, just email us within 30 days of your date of purchase, and we will issue a 100% refund immediately. No questions asked. Your purchase is 100% safe.

Frequently Asked Questions

Is the guide available in hard copy or only in e-book format?
At the moment, the guide is available in e-book format only. In the near future we hope to offer a hard copy version. The guide can be read on every major tablet and e-reader including iPad, Kindle Kobo and Nook.

Why isn't the guide free?
Keeping our website up to date and continually adding new content is a labor of love, but it is also expensive and time-intensive. While all content on the website is free of charge and there are no pay walls, we have to find ways of supporting the site. Revenue from the guide makes the site possible. 
Note that a lot of the information in the guide can be found on our website. The guide is a condensed version of essential content in a convenient e-book format, with additional resources added that are not yet available on the site, but may eventually appear there, such as the state-by-state resource and legislation tables.


What format is the guide in?
The guide is an interactive Adobe PDF document that you can save to your computer or laptop and view on a tablet or smartphone. From there, you can read the book on screen or print out and bind the entire e-book or just the pages you want.
You probably already have a PDF reader, but if your computer doesn't have the software, you can download Adobe Reader for free.


I don't have PayPal, can I still buy it?
Yes, you can choose the option of paying by credit card during the checkout process. You will not have to create any accounts at PayPal or our site.  The whole process should take just minutes.


Are there bulk discounts?
Yes. Please inquire for purchases over 10 copies.


Can people outside the U.S. buy the guide?
Absolutely. While intended for U.S. parents, the majority of the content is still valuable for parents from the U.K, New Zealand, Australia and Canada. The same risk free purchase guarantee applies for those outside the U.S.
Note that a U.K. and Canadian guide are in the works.


I never received my download link
You should receive an e-mail with your download link within approximately one hour of making payment.
There are several reasons why you may not have received your e-mail.
The e-mail was filtered into your trash folder instead of the inbox. Check your spam folder.

The e-mail address on your PayPal account (if used) may have been different or out of date from your current email address. Check your PayPal account to verify which e-mail account is currently associated. 
You may have entered a typo when you entered your details when paying by credit card (if used). Check to see if the transaction was refused. 
If the transaction appears to have taken place smoothly, your email is correct and hasn't been filtered, and you still don't receive your link, just contact us through the website, with details of your transaction (date, time, name, method of payment).  We will follow up within 24 hours.  
Why has my download link expired? 
Your link is unique to your purchase and is valid for 7 days or 3 download attempts. If the link has expired or you have made too many attempts to download, then you will see the "expired" message.

Just contact us through the website and explain your situation. We will get back to you with a new link as soon as possible. Be sure to provide the details of your transaction to help us track it down, including date purchased, your name and method of payment.

How to Buy 
***Currently being updated. Watch for a 2018 version soon!
To purchase the guide, you will need a

credit card (

some debit cards also work)

OR

a PayPal account.
Click on one of the "Add To Cart" buttons that appear on this page and then a little window opens up.

Select the guide.

Click on "Checkout with PayPal" which will take you to PayPal—even if you wish to use a credit card.
If you have a PayPal account already, then you will complete a regular PayPal transaction. Be sure PayPal has an up-to-date email address for you.

If you are going to pay with your credit card then you have to fill in the card details on PayPal and follow their instructions. Make sure there are no typos in your email address.
Within an hour of having paid, you should receive two emails. The first confirms you made a purchase, and the second contains your download link. Follow the link to begin the download. If you haven't received an email within an hour, be sure to check your spam folder. The download file is an Adobe Acrobat PDF, approximately 3.5MB in size.
What Happens after I Download the Guide

On a desktop computer be sure to save the file to the folder of your choice.

On an iPad, when you download and then open the document, you will be asked which application to use. We suggest you open the guide with iBooks, where it will be saved along with all of your PDF documents.  iBooks is loaded with many convenient reading features and accessibility functions including text-to-speech.

Other tablets and smart-phones will provide you their own options for saving the document depending upon the applications used. If you have downloaded the e-book to your desktop but wish to view it on your e-reader, you will have to follow the steps for your particular e-reader, available online. This is usually a very easy process, taking only a few minutes.

If you have any questions, concerns or comments please feel free to contact us anytime. We hope you enjoy the guide!

---
---
---
Home
> U.S. Parent Guide 2014-2015
---
Didn't find what you were looking for? Use this to search the site:

---
| | | |
| --- | --- | --- |
| | Did you find this page helpful? If so, please Like, Share, +1 or Tweet this page to help us reach more parents, teachers and students. | |
---
Stay up to date, subscribe to our Newsletter: The Oasis