Access Academy
Access Academy
10618 Breckenridge Dr
Little Rock, Arkansas
72211
501-217-8600501-217-8600
By the Numbers

Tuition

$6,600 - $8,250 2014

Student/Teacher Ratio
Preschool 10:1
Academy 12:1
Mission / Vision - In Their Words

Mission: We are a nonprofit organization committed to building new levels of confidence, competence and opportunity by empowering students with learning disabilities to define and achieve success throughout their lives. At Access, we view our students as unique individuals with strengths, talents gifts and abilities to be recognized and developed.
How They Accommodate Dyslexia

Note
The school is composed of three parts:
1) Access Preschool and Academy (grades 1 to 12)
2) Access Evaluation and Resource Center - offering evaluation and diagnosis services and training for students, parents and professionals
3) Access Therapy- an out patient pediatric speech, physical and occupational therapy clinic which specializes in disabilities linked to language impairment
Target Students: The school considers itself a "one stop shop" for children and students with developmental and/or learning delays. Their programs accommodate students with attention deficit disorder, apraxia, autism, down syndrome, dyslexia, feeding disorders, hearing impairment, language delays, mild mental retardation, sensory integration disorder and written expression disorder.
They integrate children with developmental delays with normal children in their preschool which serves children as young as 6 weeks and up to 4 years of age.  The school also features a day program for adults from 18 to 35 where they are taught life skills to aid them in independent living.
Dyslexia Accommodation: The school's reading program uses the DuBard Association Method as well as the Wilson Method. Both are based on the principles of the Orton-Gillingham system. Other support listed on the website include:
Speech-language therapy 
Occupational therapy
Physical therapy
Individualized tutoring
Teaching of life skills
Teacher Training: All teachers at ACCESS Academy are trained in the DuBard Association Method and instruct in the Wilson Method. The ACCESS Group also offers parent training and hosts training seminars for Cambium Learning Technologies software products for teachers, special educators and therapists. 
Student Teacher Ratio: The preschool has a student-teacher ratio of 10:1, while the  Academy is 12:1
Assistive Technology: The school boasts that all of their classrooms have 1-2 computers and that students have access to the school's computer lab as well as a mobile laptop lab.
The school's computers use applications to help with reading and comprehension including text to speech software.
Financial Support: An "Access Tuition Assistance Fund" provides support for some students

Access Academy
DRW Scorecard
Target Students / Mission: 2/4

Dyslexia Accommodation: 3/4

Teacher Training: 4/4

Student Teacher Ratio: 2/4

Assistive Technology: 3/4

Financial Support: 3/4


DRW Scorecard

Based on information available at the school's website we have scored the school in six areas of importance to prospective parents and students.

Important Notes

1) Given the limitations of information available to us, the scores may not accurately represent the school. School administrators  or informed parents and students are welcome to contact us with additional information and we will update the scorecard accordingly.

2) Scoring is based on specific dyslexic student needs, not on an absolute scale of school quality.
DRW Scoring Grid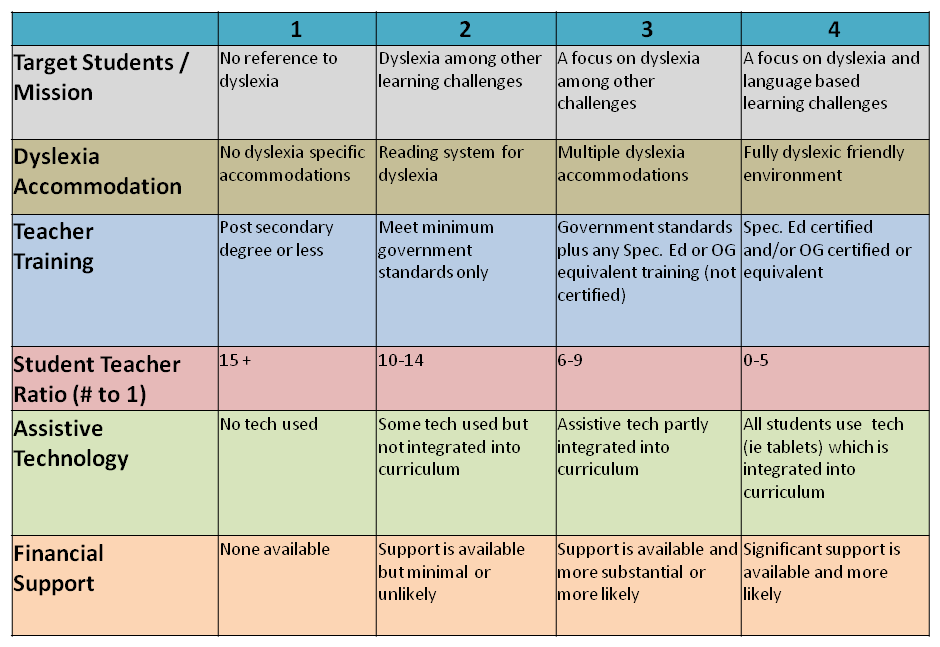 ---
Return to the Top of Access Academy

Access Academy
---
Stay up to date, subscribe to our newsletter: The Oasis