Famous Dyslexics: Anderson Cooper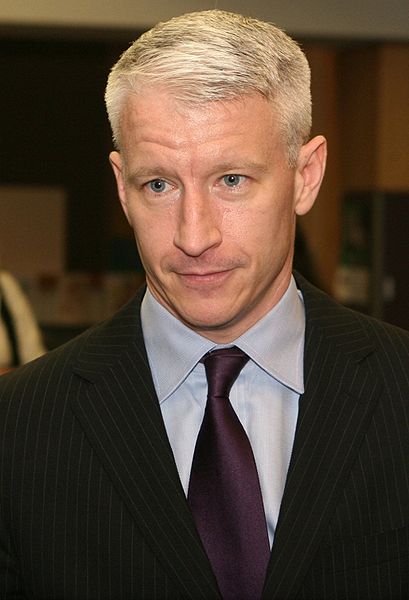 Quick Facts about Anderson Cooper:

Full Name:  Anderson Hays Cooper (AKA Silver Fox)

Current Job: Talk Show Host, News Anchor
Born:  June 03, 1967
Secret to Overcoming Dyslexia: Support from his family and personal determination
Hobbies:  Collecting hand painted signs from African restaurants and shops


Biography
Anderson Cooper was born on June 3, 1967, in New York City, the younger son of the actress, artist and heiress Gloria Vanderbilt and the writer Wyatt Cooper. His television career began early, appearing on the Tonight Show at the age of three with his mother.
Tragedy followed, as he lost both his father and brother by the time he was just 20 years old. 
| | |
| --- | --- |
| Fortunately, he grew up in a family that placed importance on reading and writing. His parents hiring a special reading instructor who helped by encouraging him to find books that he was truly passionate about. Helen Keller's biography and novels like "The Quiet American" by Graham Greene were among the books that inspired him.  | Cooper Discusses His Dyslexia |
Despite the tragedies that marked his early years, and a mild form of dyslexia which he says made some letters appear backwards, Cooper thrived in school, graduating from the prestigious private Dalton School and later Yale University before going on to a career in journalism.
He interned at the Central Intelligence Agency for two summers, but spying was not his destiny. His 'news junky' nature lead to a correspondent position for ABC News in 1995, and later an anchor post at CNN. Today he is one of the most recognizable personalities on television hosting his own news program, Anderson Cooper 360. He had also hosted his own talk show Anderson Live until May 2013. He has won 5 Emmy awards for his reporting on subjects from Princess Diana's funeral to the earthquake in Haiti.   
Greatly helped by the support of his family and through his own personal determination Cooper simply refused to let personal tragedy or his dyslexia stand in the way of his success.

Quotes
"Hope is not a plan"

"I think you have to be yourself, and you have to be real and you have to admit what you don't know, and talk about what you do know, and talk about what you don't know as long as you say you don't know it."

"I don't like anything that scares me, and I prefer to face it head on and get over it. Anyone who says they're not scared is a fool, a liar or both. I just don't want that fear in my stomach to be part of my life, so I work to eliminate it."
"The tide of history only advances when people make themselves fully visible."
---
Return to the top of Anderson Cooper.

Anderson Cooper
---
---
Stay up to date, subscribe to our newsletter: The Oasis