Bancroft School



Bancroft School
1100 Shore Drive
Worcestor, Massachusetts
01605
508-853-2640
By the Numbers

Tuition 2013-14

$32-35K
Hope Graham Program

Student/Teacher Ratio

5-8:1
13:1 in mainstream program

Enrollment

12
Hope Graham Program only.
500 in mainstream program

Mission / Vision - In Their Words

Mission: "Bancroft, an independent, coeducational, college-preparatory day school, prepares talented, well-qualified, and motivated college-bound students, pre-kindergarten through grade 12, to pursue and realize their academic, personal, and social potential.
We provide a comprehensive, caring, and creative curricular and extracurricular program that fosters an experience of excellence for each student.
Inspired students, a superior faculty, and engaged families thrive in our diverse, safe, and supportive community.
We afford students the opportunity to discover their passion in life and to learn to embrace confidently and responsibly the moral and ethical challenges of being lifelong learners, teachers of others, and citizens of an increasingly complex global community."
How They Accommodate Dyslexia - What We Found

Target Students: Although the school welcomes students from pre Kindergarten to grade 12, it is only for grades 1-8 that they offer their Hope Graham Program (HGP) which targets students with language based learning difficulties including dyslexia.

There are just twelve students in the program this year, but in fairness, it is difficult to get such programs off the ground and twelve is actually a pretty good first intake.  Also, keep in mind that the students in the program attend most classes with the main student body of ~500.

Dyslexia Accommodation:  Their (HGP) for students with language based learning difficulties started in 2013. Features include:
Class sizes ranging from five to eight students,
Small-group and individualized instruction facilitated by expert teachers in reading, comprehension, spelling, writing, and in some cases math
Orton Gillingingham and LindaMood Bell reading programs

A systematic, multi-sensory approach
Hands-on learning, and 
Assistive technology
HGP students attend regular grade level classes for all non-language instruction and then attend HGP classrooms for language instruction.
Bancroft has an extra time policy which allows students with documented learning disabilities to have extra time for completing exams. 
| | |
| --- | --- |
| | Bancroft School's Hope Graham Program, pictured here, got off to a good start in 2013, but at 12 students, it's not B-I-G yet. |
Teacher Training:  Teachers in the HGP are certified in the Orton-Gillingham approach to reading. They are also trained in in an approach called 'All Kinds of Minds' which uses the latest research, including neuroscience, to educate teachers about how students learn, with special attention to individualizing the teaching based on the strengths and weaknesses of the particular student. 

Student Teacher Ratio: The bulk of classrooms at Bancroft are 13 students to one teacher whereas the HGP classrooms are between  5-8:1.
Assistive Technology: All Bancroft students from grades 6 to 12 are supplied with an iPad and both students and teachers are trained in using the devices throughout the school year.
The two HGP classrooms are equipped with  assistive technology and non-typical seating but we are unclear on exactly what tech is being used. If the ipads are the key, we're still not clear on how they are being used. 

Financial Aid: For the Hope Graham program tuition is as follows:

Grades 1-5: $31,700   Grades 6-8: $34,900
The school has a financial aid budget which awards grants based on family need. In recent years, over $2 million in grants has been provided.

With a total enrollment of approximately 500 students, simple math reveals that the average student receives $4000 per year, but with great variation to be sure, since many receive nothing. 

Bancroft School
  DRW Scorecard 2013-2014
Target Students / Mission: 2/4

Dyslexia Accommodation: 4/4

Teacher Training:  4/4

Student Teacher Ratio: 3/4

Assistive Technology: 3/4

Financial Support: 4/4


DRW Scorecard

Based on information available to us, we have scored the school in six areas of importance to prospective parents and students.

Important Notes

1) Given the limitations of information available to us, the scores may not accurately represent the school. School administrators  or informed parents and students are welcome to contact us with additional information and we will update the scorecard accordingly.

2) Scoring is based on specific dyslexic student needs, not on an absolute scale of school quality.
Final Thoughts

Although the school is first and foremost a mainstream private school (thus the low score for their mission statement), their Hope Graham Program for students with language based learning difficulties appears to be off to a very good start, employing good methods, tech and training.

The integration with mainstream students may be attractive to those parents and students who don't want to attend a school dedicated to kids with reading or learning challenges, especially those with mild dyslexia or who otherwise excel in core academics. 

The large financial support budget at Bancroft will be an important consideration for many parents to be sure. 

DRW Scoring Grid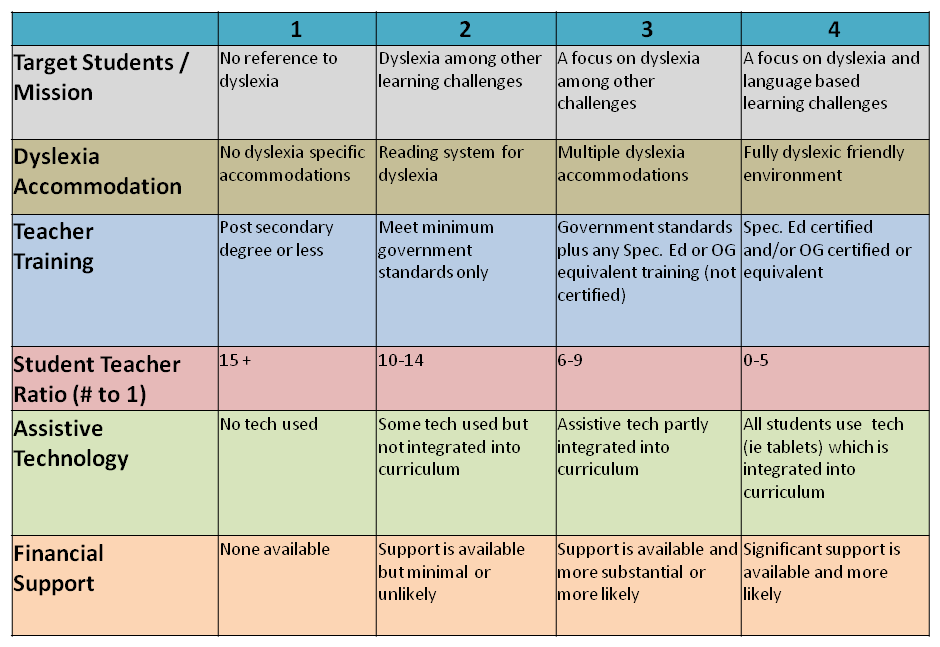 ---
Return to the Top of Bancroft School

Bancroft School
---
Stay up to date, subscribe to our newsletter: The Oasis