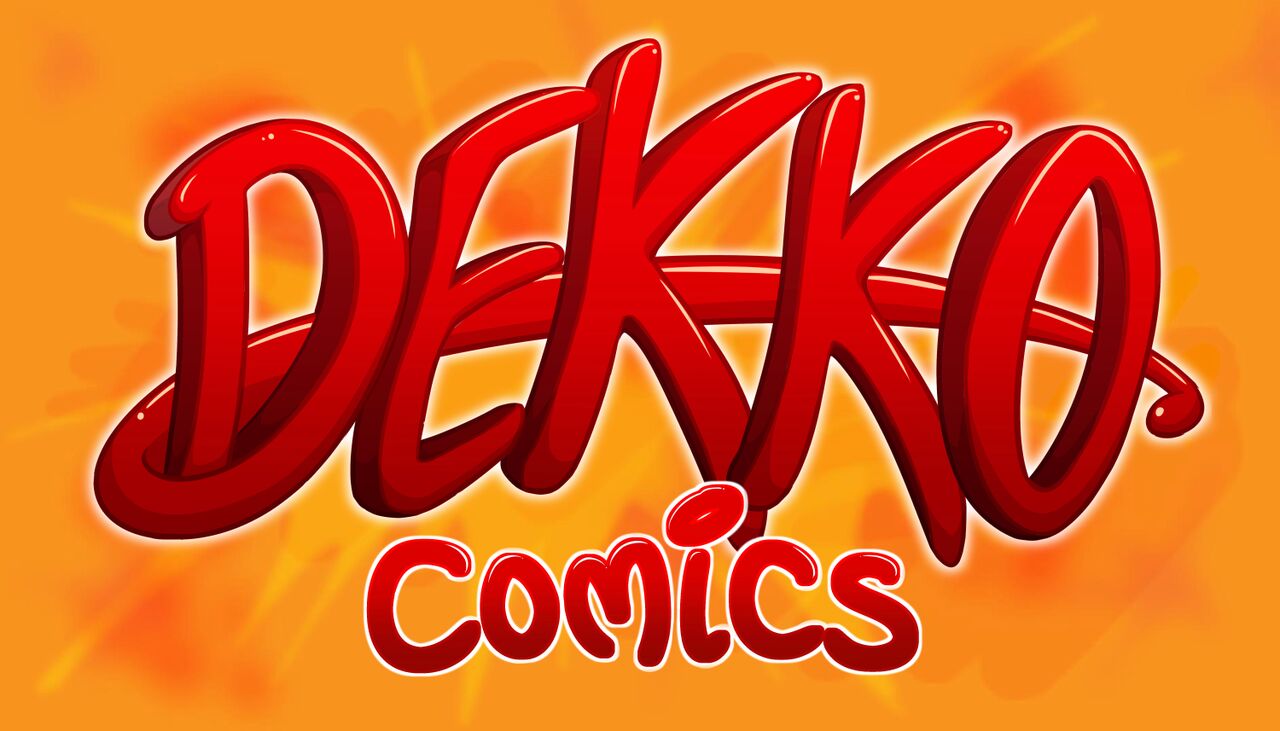 Dekko Comics
Discount Code for Reading Well Visitors
Use code RWDEKKO18 for 30% off annual subscriptions.  Buy Here! 
Note prices quoted in British Pounds but you can pay in dollars. 
Shouldn't learning be fun? The folks at Dekko Comics think so and so do we!
Based out of Glasgow Scotland in the U.K., Dekko produces hard copy comics that turn dreary school curriculum into engaging fun, smashing motivational barriers to reading and learning—something especially helpful for those with dyslexia. 


| | |
| --- | --- |
| | Dekko Founder Rossie Stone tells his story |
---
---
Dekko Comics History
The comics use a creative study technique that the founder Rossie Stone used in his own school years as a solution to a long struggle with dyslexia. In 2015 Rossie converted his technique into comics that can help others, launching an entertaining-education business.
A highly successful 2016 Kickstarter campaign rocketed the first two editions to the presses in September 2016.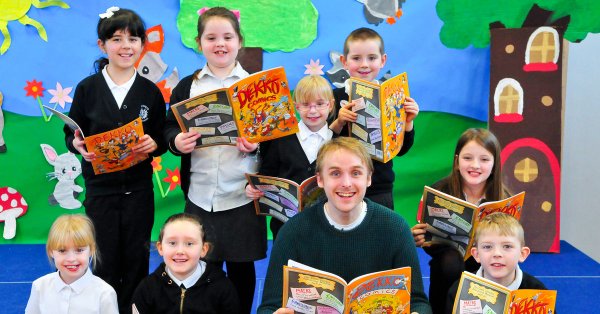 Dekko Comics founder Rossie Stone and some happy readers!
Making Learning Fun
How do the comics teach? From reading to math to science and history, Dekko uses fun story lines, and creative characters to teach important facts and concepts. Check it out for yourself below, and note the use of color coded legend at the bottom of each page, helping students extract the most important content! For more samples visit here. 
| | |
| --- | --- |
| History | Language Arts |
| Science | Science |
Using Comics as an Educational Tool
Comics and graphic novels are still something very new in the toolbox of most teachers. Almost certainly they are an underappreciated and underused tool for reaching students, especially those who struggle with reading. Here are some links to sites exploring the value of using comics in education:
University of Lethbridge article Teaching with Comics
New York Times Article on teaching with comics and graphic novels
Reviews
Dekko comics were tested in six different schools before being officially released to the public. Response was overwhelmingly positive. Participants found the comics "engaging, clear, and memorable resources".
Parents, teachers, librarians and academics have all reviewed the comics with glowing reviews.  Here is what they are saying so far:

Hi, my 14 year old daughter has loved your comics and is learning from them as a consequence. I have been watching Amazon for your next issue and have just found your FB page which says you're going monthly! Well done! Please could you advise how I can organise a subscription, thank you?

— Parent of Dekko Comics reader
I just finished reading [Issue] No4 and OMG you are a genius! I love it. I shall use several of the pages for teaching this week!


— Learning Support Teacher, Dolphin Primary School
I am a secondary school Support for Learning leader and I absolutely LOVE these. Rossie produces colourful, fun, engaging comics on such a huge variety of topics. They are a brilliant addition to school and home revision resources.
— Learning Support Leader who uses Dekko Comics
I enjoyed it a lot and it was really funny. I would definitely do my work this way. It was really easy because it was enjoyable and when it is enjoyable it is easy for me. I know more of the subjects after reading the comics
— Dekko Comics reader, Age 9
Her whole Year 7 revision has been done from your comic this weekend. What made my day was I had to ask my daughter to STOP reading edition [issue] 3 in the car but she said "I find reading this comic like being in a ditch - easy to get in but so difficult to get out!"
— Parent of Dekko Comics reader
The feedback from the children has been completely positive and they seem to have appealed to all kinds of people ... readers looking for humour are giggling but also coming to tell me what they've learned; and non-fiction fans absolutely love them wholesale.
— Library Manager, Ashleigh Primary, Lancashire
…this is a very impressive set of learning tools that is presented is a visually exciting and humorous manner. I think it would even benefit those in the final years of high school heading to university, if presented as a means to refresh understanding...

— Senior Lecturer in English Literature, University of Glasgow
Fantastic! So visual, appeals to all styles of learning, especially visual learners. Great that the comics include even the 'unpopular' subjects – French!
— Teacher, Blackfriars Primary, Glasgow
Special Deal for Reading Well Visitors!
Reading Well visitors are eligible for a generous 30% discount on hard copy Dekko one year subscription purchases. Just click on the button below.


---
Be sure to use the discount code:  RWDEKKO18
---
What you get: The latest Dekko comic issue mailed to your home or school every month for 1 year, starting with the month you begin your subscription! Each comic contains stories from Dekko's beloved character list, covering a mix of subjects per issue: such as Math, English, History, Geography, Physics, Biology, Chemistry, and Language arts. 

To learn more visit their website.
---
Back to the top of Dekko Comics
Dekko Comics
---
---
Stay up to date, subscribe to our newsletter: The Oasis